I
s it offensive to call them that? I find it offensive is that these "Bratz" dolls are being marketed to little girls. I find it offensive that parents are buying these dolls for their young (read: easily influenced) children.



Barbie was bad enough in that she presented an idealized and unrealistic image of beauty, touting proportions that would cause her to topple over if she were a real woman. As with Barbie, the Bratz dolls present beauty as: tall, thin, big eyes, and small nose (or even no nose!) But the Bratz dolls take it a step further with their ridiculously huge lips, revealing clothing and suggestive body language. These dolls are highly sexualized. Did I mention they are being marketed and sold to young girls

?

Sometimes it feels like no one cares about this or really realizes what is going on here. Where is all the outrage? I have found from talking with other people that I am not the only one who has a problem with this. So, what's the solution? ... Don't buy it! Personally, if I am aware that a certain store/company is promoting something that I abhor, I do not give them my money.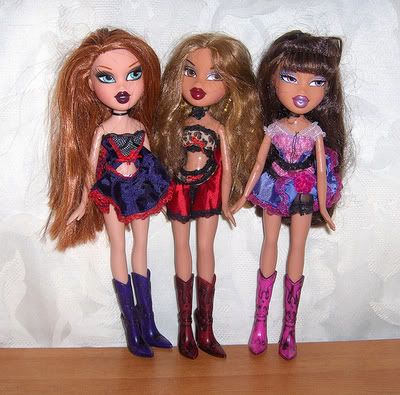 I've noticed that young girls are wearing more revealing and sexualizing clothes than when I was young. Yes, it is definitely partly the parents' fault if they are buying their kids these clothes. But the problem is much larger than that. Everywhere you look, young girls are being sent the message that they need to dress skimpy and look sexy. Let me take one last swipe at the Bratz by pointing out the company's silly attempt at multiculturalism and diversity by simply making the dolls with slightly varying skin tones. Everything else about them is exactly the same.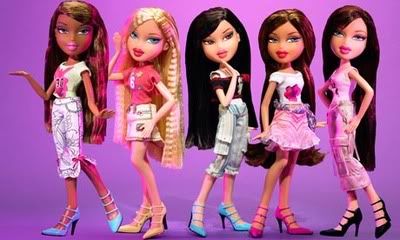 I am happy to report that I have come across a recent article that offers some criticism of these teach-your-child-to-dress-like-a-hooker dolls.

A wonderful article:

Child advocate says popular dolls are 'sexualizing' children

To take a step back and look at the bigger picture, I want to point out that we are living in a time in which the sexual abuse of children is being discussed in the media more than ever before. The discussion is now out in the open (though too often sensationalized), and more parents are accepting the harsh realities of pedophilia, child pornography, and child molestation. We have the Amber Alert, we have "Stranger Danger" specials on tv, and then there's the disturbing "To Catch a Predator" series. We are supposedly more alert than ever about these things. So why is it that more than ever, we are allowing our children to be so sexualized? Shouldn't this be exactly what parents

don't

want to do?


"'I feel powerless," says Nick. "Because my daughter sees it. She sees it on mannequins, she sees it in the videos, she sees it on people on the buses, on the street, and she says 'Daddy I want a skirt like that, I want shoes like that, I want a top like that.' All I can say is 'Okay sweetie, we'll go buy it.'" --
quote from:
Buying into Sexy: The sexing up of tweens
Also from that must-read article are some excellent quotes from media expert Shari Graydon:
"What we're doing is we're encouraging kids to think of themselves as, and dress in a way that is sexually provocative... And it doesn't make sense that parents would buy this stuff for their kids … This kind of stuff normalizes the sexualization of children and allows people who are already disturbed and inclined to view kids as sexual playthings and sexual objects – this kind of stuff reinforces their rationalization that it's okay, that it's normal."

"It really disturbs me. And I don't understand why companies, the executives of whom have children, produce the stuff and why parents don't appreciate that this is clearly not in the best interests of their children."

"I would fault the media and I would say that popular culture and the images that are so prevalent are responsible. "



"

Parents do have a responsibility, no question about it. But kids spend more time with media than they do with their parents... the fact is that we don't live in an ideal world and we know that contemporary media, commercial media exert an enormous influence on kids."