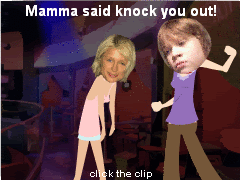 The above image is an ad for the following website:
http://www.viraltags.com/
The ad tells you to 'click on the clip,' and then redirects you to viraltags.com. Violence against women is not funny. Turning it into a cartoon-type joke does not make the issue any less serious, but it does imply that it is something we can laugh about and make light of. So you don't like Paris Hilton? That doesn't mean she should be punched in the face so hard that she's bleeding. In my personal experience, people who make light of the topic have not seen the horror of domestic violence up-close or are ignorant of the reality and scope of violence against women.
Did you know?: the number one reason women go to the emergency room is because of domestic violence. If you did not already know this, I hope it shocks you.
The following statistics are from
http://www.endabuse.org/
* Nearly one-third of American women (31 percent) report being physically or sexually abused by a husband or boyfriend at some point in their lives, according to a 1998 Commonwealth Fund survey.
* Around the world, at least one in every three women has been beaten, coerced into sex or otherwise abused during her lifetime.
* As many as 324,000 women each year experience intimate partner violence during their pregnancy.
* On average, more than three women are murdered by their husbands or boyfriends in this country every day. In 2000, 1,247 women were killed by an intimate partner. The same year, 440 men were killed by an intimate partner.
* Approximately one in five female high school students reports being physically and/or sexually abused by a dating partner.